North Georgia Tinplate Trackers is a non-profit group of O-Gauge Model Railroaders. We have built an Interactive Modular Layout that we take to community events throughout the year. Every module has push-buttons which allow spectators to operate various model railroad accessories such as crossing gates, beacon towers, whistles, and other animated structures.
For ten years we participated in the annual ten-day Festival of Trees at the World Congress Center. Our magnificent 20' x 40' layout was one of the highlights of the Festival, which raised funds for Children's Healthcare of Atlanta.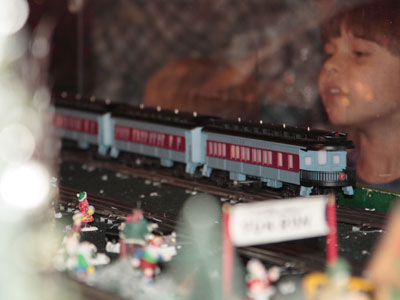 Photo of the NGTT Layout at the Festival of Trees
Membership in the NGTT is open to "kids of all ages." It is a great club for the seasoned railroader as well as the new hobbyist. You do not need to have your own layout to belong - just an interest in the hobby and the desire to attend some of our events, help, run and enjoy trains.
We have members throughout North Georgia - all the way from Gainesville to Macon. You can choose which activities to help with. The more members we have, the more enjoyable it is for all of us!
The club has one business meeting a year and a few maintenance meetings to prepare for major events. Our club has elected officers and an experienced member coordinates each event or activity. Our dues are $35 per year for those 18 and over, $20 per year for younger members.
To join the club or to involve us in your community event, contact Phil Denslow at philkd@aol.com. You can view/download our Info Flyer & Membership Form here.